YEEH!
Most of my Mouser order just came in.

Tact switches, which i will modify.

Dual potmeters for the feedback.

Some bolts, nuts and spacers.

And a lot of diodes.

now its only waiting on the PACTEC PT-10 case.
as for progress:
The rubber buttons i want to use on top of the tactswitched are too big. so i needed to find a solution. and i think i found one.
on top of the tactswitches fits, exactly fits, a lego connector peg.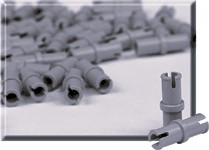 and the rubber buttons fit exactly on top of these.
i've ordered 25 of them. i'm going to cut them in half and hopefully stay under 15 mm in total, otherwise they'll sticks out too much.
In other news, I succesfully ordered a CS from SmashTV. I love how he provides some excellent service. and i'm a real stickler for service.
CS en BASE boards usually go together. and smash just sold his last pair. new orders would come in about 3 weeks and he could order one CS extra for me.
however this would mess with my plan to have this thing done in time for a performance i'm planning to do with it. So smash came up with another solution, he remembered that he had one bad CS board in his discard pile. it had one bad trace and usually wouldnt sell these at all. but instead of him throwing it away, i could throw it away for him :P long story short, i'll have a near mint (IMHO) CS board for a significant discount AND in time for me to complete the project in time. the guy is golden!
thats it for now.
till next time!
thats it for now