This is a sneak preview of the upcoming MIDIbox SEQ V4 Lite, a new project which I'm developing together with Christian aka. CD
Picture of the prototype (built by Christian):
We are planning to create a PCB for the button/LED matrix, and a Ponoko-like case!

Feature list:
minimalized user interface without LCD. Buttons and LEDs are directly connected to the MBHP_CORE_LPC17 module (no DIN/DOUT modules required)

64 LEDs and 48 buttons

reduced feature set, optimized for live/step recording -> MIDI Looper

each function has a dedicated button

only two sequences are available, you can alternate between these sequences, or play both together.

it's also possible to enter a new sequence while another sequence is playing

sequences have to be entered with an external keyboard in realtime or with the step recording function

a sequence consists of up to 64 steps for notes - up to 16 note/velocity/length values can be stored per step (16 note polyphony)

CCs and Pitchbender are recorded as well with 4x step resolution (64th)

sequence length can be set from 1..64 steps (also uneven lengths are supported)

note transpose via keyboard

layers are auto assigned on incoming CCs, up to 19 CCs layers can be recorded into a sequence

MIDI events are sent via MIDI, USB, OSC (ethernet) and optionally also via CV (AOUT/AOUT_LC/AOUT_NG)

MIDI clock as Master or Slave; Tap Tempo function

Copy/Paste/Clear/Undo function

sequences can be stored/restored on/from SD Card
Sounds like a simple sequencer project, but now the special gimmicks which are possible thanks to the mighty MBSEQ V4 engine which is running in background.

On the recorded sequence, following effects can be applied:
step progression parameters (steps forward/backward, repeat, skip, interval)

Groove templates (step delay/velocity/note length changes) e.g. for Shuffle, Swing, velocity modulations, etc...

Echo Effects (!!!)

Humanizer (randomization of MIDI events)

different LFO effects on Note Pitch, Velocity, CC values

Force to Scale with selectable root note
Effects are stored as presets (important for live usage), and can be changed by editing configuration files on SD Card.
The firmware is almost ready, but we will need some time for optimizing (while using it) to make it perfect!

/edit: Video:
/edit2: Vimeo Link (much better audio quality!!!):
http://www.vimeo.com/28838483
/edit3: prototype PCB is ready!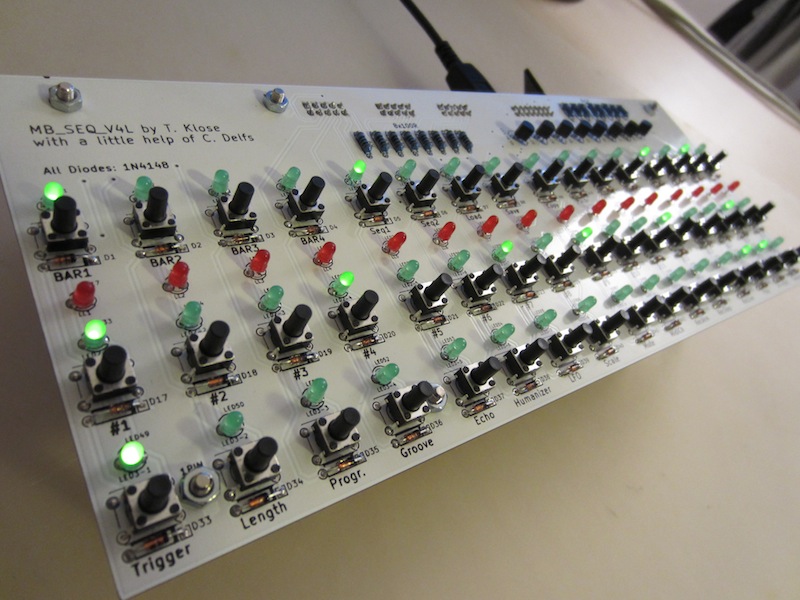 More pictures later in this thread.
/edit4: prebuilt binary now available under
http://www.ucapps.de...2_download.html
/edit5: project has been officially release; project page:
http://www.ucapps.de...x_seq_lite.html
Best Regards, Thorsten.